Robert Bloom
The Story of a Working Musician

including his book on pedagogy
dictated in 1975-76
Sara Lambert Bloom ~ Editor
and Contributor
Limited edition 2009,
Self-published
Layout and design by Ari Meil,
Portland, Maine
Paperback, 460 pages
(text plus 475 historical
photos and documents)
plus CD-ROM containing
Reedmaking and
Discography chapters
…a fascinating window into the development of American musical institutions including symphony orchestras and music schools, but also into the development of American listening habits…Reproductions of original photographs, telegrams, concert programs, employment contracts, letters, notes, and newspaper clippings bring the book (and its subject) to life and provide a rich source of primary documentation for…a "working musician" whose contributions to wind playing were certainly extraordinary.
–Notes review, December 2012
ften hailed as one of the last performers of the Golden Era of classical music in America, a "grand, grand artiste" in the words of Pablo Casals, called "caro" by Arturo Toscanini, and favorite of conductors ranging from Leopold Stokowski to Igor Stravinsky to Robert Shaw, the legendary oboist Robert Bloom (1908-1994) left behind a treasure of inspiration as well as practical advice for the aspiring oboist.
Concert artist, composer, teacher, conductor, and editor of eighteenth-century music, Bloom was lauded by Philip Nelson, Dean of the Yale University School of Music, as a "consummate musician, oboist (and one-time cellist), cabinet maker, exceptional chef, lively pedagogue, raconteur extraordinaire, world traveler, and a 'gentleman for all seasons,'" one of the most admirable and likable champions of the 20th century.  His biography is the first entered in the Grove Dictionary of Music and Musicians for an American-born oboist.
Robert Bloom's contributions have at last been lovingly and intelligently gathered into a reader by Sara Lambert Bloom, a distinguished oboist, teacher, and scholar in her own right, who enjoyed a unique twenty-eight-year-long association with Bloom, first as his pupil, then as his spouse.  Daniel Stolper, the prominent American oboist and pedagogue, has written, "Her erudition and burning commitment to this project shine through on every page…her prose often reads like poetry."
Augmenting Bloom's unique and passionately rendered oboe pedagogy are documents giving his collegiate curriculum and preferred repertoire, his published and unpublished essays, his complete discography, selected correspondence and reviews, anecdotes from milestone events during his long and distinguished career, and excerpts from transcripts of interviews in which some of America's most prominent musicians discuss with him the art, the politics of the art, and musical and career highlights of the man "generally considered to be one of the greatest oboists of his generation and perhaps of all time."  –New Haven Register, March 1980
Calling Bloom's playing "cynosure," brilliant enough to navigate by, Bernard Jacobson, program annotator and musicologist of the Philadelphia Orchestra and Artistic Director of the Residentie Orkest, The Hague, considers Bloom "a player of phenomenal gifts, not merely technical, though in that sphere he can have had few rivals, but in the fields of musicianship, of expressivity, and also–a salutary revelation in these days when we think we are the first generation to have discovered the truth about Baroque style–of taste in the interpretation and embellishment of eighteenth-century texts."  Bloom's pioneering work as a founding member of the Bach Aria Group, which he joined in 1946 at the invitation of the most revered American-born Bach scholar, William H. Scheide, is documented with excerpts from Sara Lambert Bloom's book (in progress) A Time For Bach:  The Story of the Bach Aria Group (1946-1996).
Robert Bloom:  The Story of a Working Musician is a story for all people for all times.
---
Order form for individuals: www.RDGWoodwinds.com
Order form for library discount: Email
---
Index, Indexing Guide & Discography PDFs
Book Index
Indexing Guide
Discography – Chapter12
Bloom Discography Updated 2013 by Mark Brown
The first Discography was started in 1967 by Thomas Fay during his studies with Robert Bloom in the MMus degree program at the Yale School of Music. It was updated by Sara Lambert Bloom in 2009.
Mark Brown is a former pupil of the Blooms who received his BA at Yale University in 1971 and currently works at the Library of Congress. He has always been grateful to Mr. Bloom for teaching him that an instrument is merely the vessel through which the talent of a great musician passes. Mark is an avid Bloom discographer and has graciously provided this update, which he will refresh periodically. He is happy to answer questions which you can submit to him via Sara Bloom by writing to her via e-mail
---
Examples of the book's many photos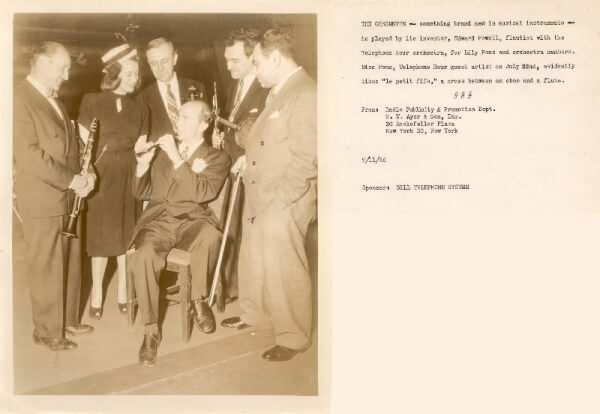 The Chromette – something brand new in musical instruments – is played by its inventor, Edward Powell, flautist with the Telephone Hour orchestra, for Lily Pons and orchestra members. Miss Pons, Telephone Hour guest artist on July 22nd, evidently likes "le petit fife," a cross between an oboe and a flute. ~ Press release from Radio Publicity and Promotion Dept.
---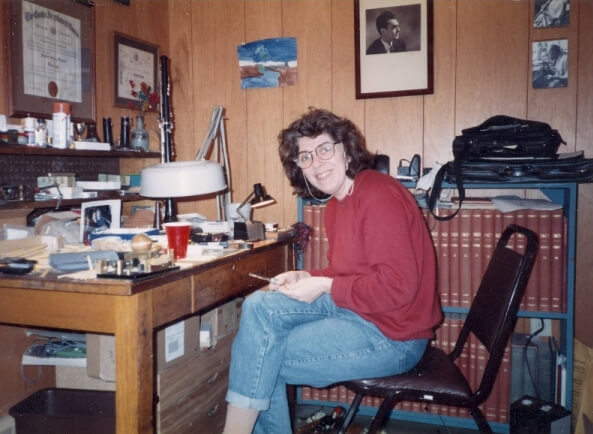 Sara Lambert Bloom reedmaking at home in Cincinnati