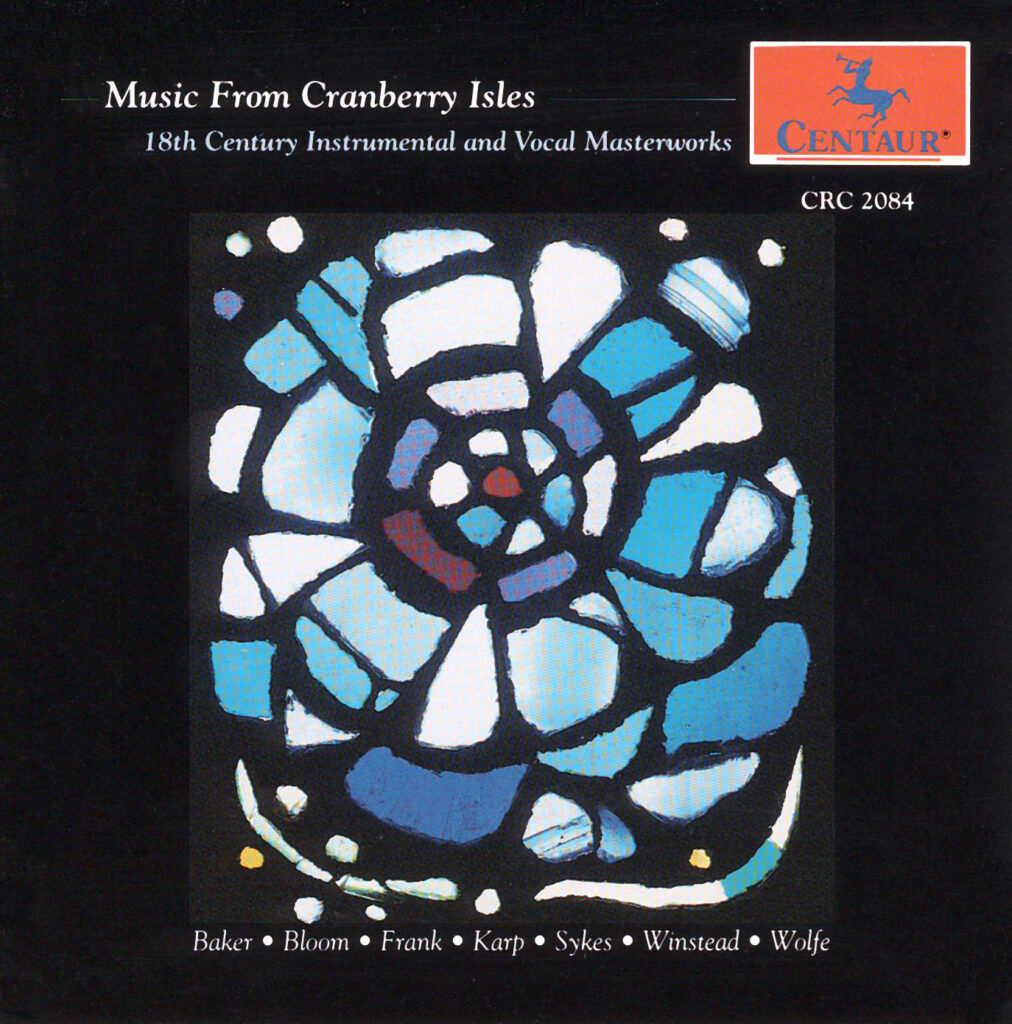 Music from Cranberry Isles:
18th Century Instrumental and Vocal Masterworks
TELEMANN, GLUCK, VIVALDI, BACH, SCARLATTI
Julius Baker, flute; Sara Lambert Bloom, oboe; Susan Storey Frank, soprano; Benjamin Karp, cello; Peter Sykes, organ; William Winstead, bassoon; Paul Wolfe, violin
Centaur: CRC 2084
This CD features a stellar group of musicians performing some of the greatest works of the 18th century, including Telemann Quartet in D minor, Gluck Dance of the Blessed Spirits, Bach Nun komm der Heiden Heiland, Vivaldi Concerto in G minor and more. This recording was made following performances at the Cranberry Isles music festival in Maine.
One could easily dismiss this disc as another of those collections of baroque tidbits but that would be fatuous. It is a meeting of like minds and great musicians with a sole purpose: making music and not dissecting it for study.

Right from the first notes of Telemann's quartets, one gets a sense of something special: an intimacy, a grace and certainly charm that is frequently nowhere to be found in period instrument recordings. Aside from this, Mrs. Bloom, Mr. Baker and their distinguished colleagues play with excellent intonation, fine balance and a commendable sense of ensemble.

The intimate environs of Isleford's Congregational Church on Little Cranberry Island, Maine work nicely here…I felt I had been invited into the home of friends for an evening of chamber music, much as my ancestor, Robert Carter experienced in Jefferson's music room at Monticello.

A hands down winner on all counts.

Michael Carter, The American Record Guide 1991
The Gift of Music ~ Downeast Magazine, August 1992
Some would tell you there's already music in the breezes that blow over the Cranberry Isles, a cluster of comely islands located just off Mount Desert island. After talking with Sara Lambert Bloom, the acclaimed oboist who spends every summer there, we're sure of it. Two years ago this month, Bloom gathered six musician friends, all veterans of the concert stage, in the ninety-four-year-old Islesford Congregational Church. Their mission: to record a compact disc of baroque chamber music, and to do a little fortissimo fund-raising.

Music from Cranberry Isles was released on the Centaur label last winter, twenty years after Lambert Bloom and her husband, Robert Bloom, a retired oboist, first began summering on Great Cranberry Island. Over the years, the islands–and the islanders–have proved a powerful tonic for both Blooms. "Musicians lead hectic lives, and between teaching and performing we spend a lot of time indoors," says Lambert Bloom. "Here I'm surrounded by such beauty. It sustains me all winter long. I wanted to give something back to a community that has given me so much over the years."

Lambert Bloom's gift is a tour de force not only of musical talent but also logistical genius. She assembled an impressive ensemble from all over the country, including renowned flautist Julius Baker and lyric soprano Susan Storey Frank, a longtime summer resident of Great Cranberry. The group had a scant three days to rehearse and record. And while the island church offered "sublime" acoustice, the locale served up some unaccustomed background noise in the form of squawking seagulls, the basso-profundo cry of the foghorn, and the island's muffler-free cars. "We would just get into a movement, and then someone would drive by to get the mail," Lambert Bloom recalls. The resulting recording, minus the chugging cars, has been playing to glowing reviews both on island and off. Proceeds will go not only for upkeep of the church, but also to support the island fire department and library. Downeast Magazine 1992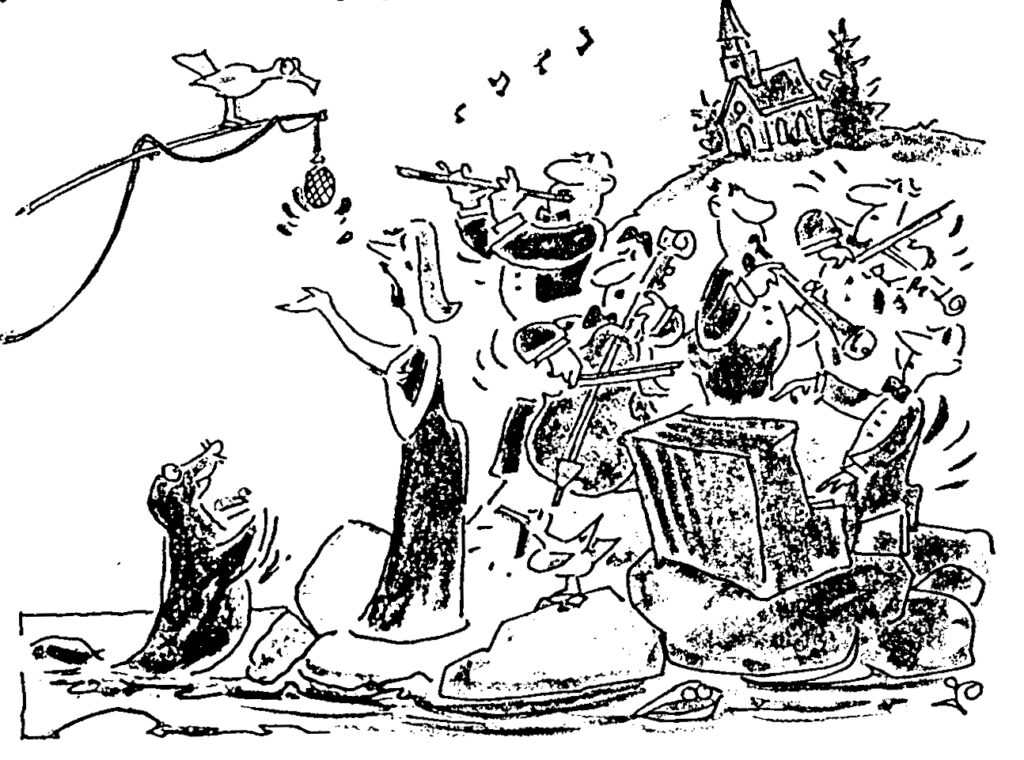 Mrs Bloom is amused to see the resemblance to every musician on the recording but the oboist, who looks nothing like her but remarkably like her husband. She has made her peace with her relationship with her mentor.
The cover for MUSIC FROM CRANBERRY ISLES
Artist Ashley Bryan's home on Little Cranberry Island off the coast of Maine is itself a museum crowded with toys he has collected from around the world as well as his own paintings and assemblages. Many of these are fashioned from treasures he finds on his daily walks: puppets he has created from driftwood and sun-bleached animal bones, a collection of stones which the forces of nature have worn into the shape of a heart, and other found objects. The most magnificent of all is the 12- by 3-foot "stained glass window" which covers the western wall of his studio. Using beach glass (bits of broken glass worn smooth by the sea) and paper mache, Bryan created the four Evangelists interspersed with scenes from the life of Jesus. The beautiful floral panel chosen for the cover is one of several in this glorious creation.
Ashley Bryan is an artist, author and illustrator, story reteller, and scholar of African-American folklore and music. In addition, he regularly reads poetry and spirituals to groups of children and adults throughout the country, establishing connections between the African-American past and present. Professor emeritus at Dartmouth College, Bryan has five ALA Notable Children's Books to his credit and "What a Morning! The Christmas Story in Black Spirituals" is a Coretta Scott King Honor Book. He has keynoted recent foundation for Children's Books conferences where he coaches his audience of teachers, parents, and others to join in his recitation. Bryan is a year-round resident of Little Cranberry island where his neighborliness rivals his artistic presence.
The Recording
Location recording is challenging at best. We managed to work around the seagulls, foghorns, and ancient, muffler-free island vehicles, but alas we did not eliminate every extraneous noise from the taping. The several loud creaks you hear derive from the shifting of weight of the musicians on the floor or organ bench. Remember that the creaking wooden interior of the island church both created problems and provided a sublime acoustical setting for this recording. Sit back, imagine the gulls and fog and salt air, and ignore, if you can, the occasional snaps.
The Organ
This 12-rank two-manual instrument was rebuild by Charles B. Fisk of Gloucester, Massachusetts and installed in the Islesford Congregational Church on Little Cranberry Island in July 1972. Mr. Fisk was intrigued by the idea of putting a small tracker instrument into a small church on a small, remote island situated in one of the most beautiful coastal areas of the United States. This little instrument was dear to the heart of one of the great organ builders of our time.
Reviews for other Sara Lambert Bloom recordings:
Sara Lambert Bloom's masterful performance of 'Echoes from the Holocaust' was not about fingering, intonation, or dynamics. The composer and musician succeeded in not merely making good music or painting a picture. Shockingly they were able to creep inside our souls. Sara Bloom's dynamic performance mystifies me. It is beyond my experience of life for a piece of music to be able to transcend being good music to being capable of releasing and creating historical tension.
IDRS Conference – Bloomington, IN-1994
*a bright and buoyant performer
New York Times
*A capacity crowd enjoyed the recital featuring the talents of an incredible oboist.
NPR
*Lambert Bloom, with her exquisite sound, displayed peerless quality as a soloist with perfect timing in the exacting scales of the cadenza.
Sarasota Journal