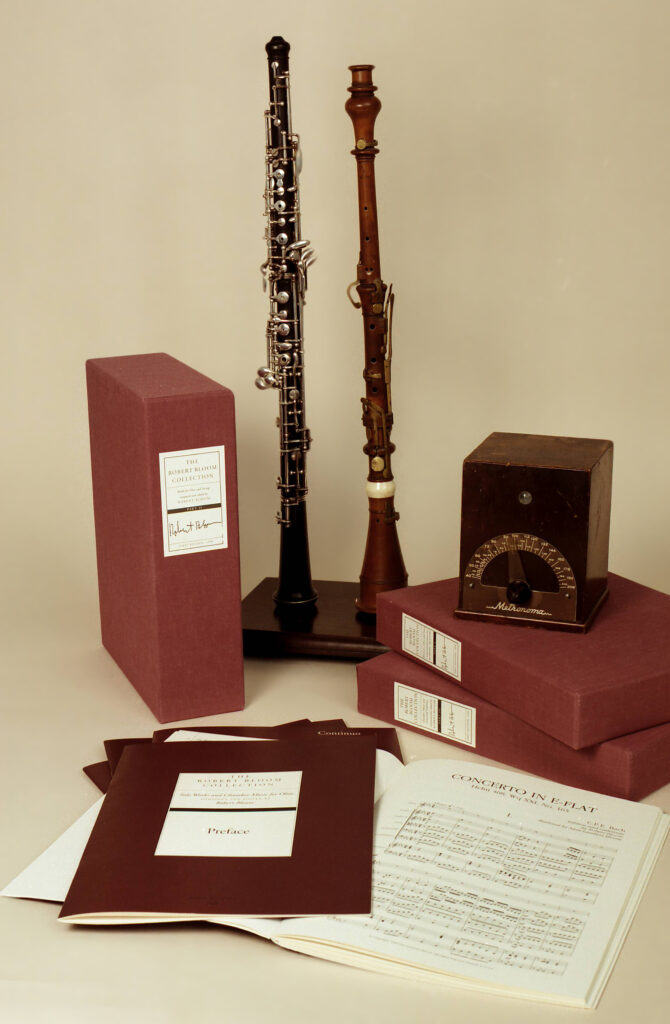 he Robert Bloom Collection, a 42-volume set of scores and parts to the editions of 18-century music and compositions of Robert Bloom compiled and edited by Sara Lambert Bloom, including her comments and insights in a preface to each volume, self-published, December 1998.
Order online at WWW.RDGWoodwinds.com
Reviews:
"All of this music, more oboe music than I had ever seen in one package, is associated with the legendary Robert Bloom, "generally considered to be one of the greatest oboists of his generation and perhaps of all time," in the words of Gordon Emerson of the New Haven Register (March 16, 1980). . .
"It is the legacy of Bloom's pedagogy that is the real gift of the Bloom Collection. Sara Lambert Bloom, a distinguished oboist, teacher, and scholar in her own right, enjoyed a unique twenty-eight-year-long association with Bloom, first as his pupil, then as his spouse. . . .
"Reading Sara Bloom's series of prefaces to the works offers its own reward. She is as much an artist with the pen as she is with the oboe. Her erudition and burning commitment to this project shine through on every page. . . . her prose often reads like poetry. . . .
"Photos and old programs from the Bloom family album add an appealing personal touch. The collection is presented in beautiful, easy-to-read print on high quality paper and the elegant burgundy covers match those of the compact discs in the companion collection of recordings. Every serious oboist, and certainly every teacher of serious oboe students, will want to own this collection, and it is an indispensable addition to the library of every school where the oboe and other wind instruments are taught."
Daniel Stolper, reviewing for Notes, the Journal of the Music Library Association, Vol. 58, No. 1, September 2001
"The service that Mrs. Bloom has rendered to our art, and by extension, to our culture (world wide) is beyond measure."
Timothy Eddy, cello faculty, The Juilliard School; artist/member, Chamber Music Society of Lincoln Center, 2002
"Your work compares with the Bernstein papers as a most impressive preservation of an American artist's work. Congratulations."
James Sinclair, archivist, Charles Ives papers, Yale University and author, "A Descriptive Catalogue of the Music of Charles Ives" publ. by Yale University Press
"Your achievement will certainly stand as one of the most significant documentations of the life and work of a twentieth century performer."
Geoffrey Burgess, contributing editor for the Grove's Dictionary of Music and Musicians and author, "The Oboe in History"
"It is the prefaces that are the most valuable part of this Collection. These are entirely Sara's work, in which she attempts to explain, sometimes directly and more oftentimes by inference, Mr. Bloom's ideas on phrasing and musicality in a given piece. They vary from minor informational paragraphs to insightful essays on the history and art of performing on the oboe."
Robert Howe, contributing editor, International Double Reed Society Journal
"The Robert Bloom Collection is a magnificent compilation of oboe solo and chamber works. The prefaces to the editions provide valuable information on performance practice issues and stylistic approaches. It will be of enormous benefit to present and future generations of performers. "
Jane Gottlieb, Head Librarian, The Juilliard School
"Thank you for sending me the extraordinary Robert Bloom Collection, which will be a valuable source of performance and scholarly materials for all practicing musicians. It is an impeccably produced series of works, and you should feel very proud and gratified that you were able to realize this significant project."
Joseph Polisi, President, The Juilliard School
"You had barely left the building yesterday when calls were being made to wind-playing friends to inform them that 'The Bloom Collection is in the Library!' I know that similar excitement will be heard in coming weeks at many institutions around the world…"
Kendall L. Crilly, Music Librarian, Yale University, 1999
"I think that the collected prefaces will certainly be an important resource not only for oboists, but for the entire community of musicians."
Robert L. Blocker, The Lucy and Henry Moses Dean of Music, Yale School of Music
"Brava, Brava, Brava!!! Your wonderful Robert Bloom Collection has arrived and I'm just overwhelmed by its magnificence.
Philip Nelson, Dean Emeritus, Yale University School of Music
"The set is beautifully produced and a most worthy addition to our collection, both as the legacy of a distinguished alumnus and as performing editions."
Elizabeth Walker, Librarian, The Curtis Institute of Music
"Robert Bloom was one of the greatest oboists of the 20th century, and it is my feeling that this project contributes to the preservation of an important piece of America's musical heritage and to the dissemination of important scholarly and aesthetic materials to the public. We are very grateful to you for making this important Collection available to present and future Curtis students.
Gary Graffman, Director, The Curtis Institute of Music, 2002
"Sally Bloom has devoted her impressive talents and years of her life to the preservation of the highest standards of our priceless heritage."
The late Wayne Rapier, President, Boston Records, 2002
"This Collection represents a musical treasure chest, commemorating the artistry of Robert Bloom, one of the truly remarkable American oboists of the last century. Bloom was not only a great artist on his instrument but an important scholar and researcher in his field of expertise. He belongs to a period in music when players, especially wind and brass players, were individualist artists who, without distorting the music in some arbitrary, willful way, developed a personal style which was instantly recognizable and memorable. There were others like that in those bygone years, but, alas, instrumental playing has become almost totally homogenized in the last three or four decades. That is why The Robert Bloom Collection is of such historical relevance and an invaluable representation of one aspect of our great American musical heritage."
Gunther Schuller, 2002
By 2013, if just 20 works from each of the 500 sets already purchased by or donated to libraries are performed each season, 150,000 performances will have reached an audience of 15 million people if just 100 people attend each concert. Since all of the 42 volumes of the Robert Bloom Collection are standard repertoire for oboists and nearly all are suitable for performance in church services as well as the concert hall, this projection of reaching 15 million people in just these first 15 years of use is a realistic one.
Sara Lambert Bloom
---
Printing Process