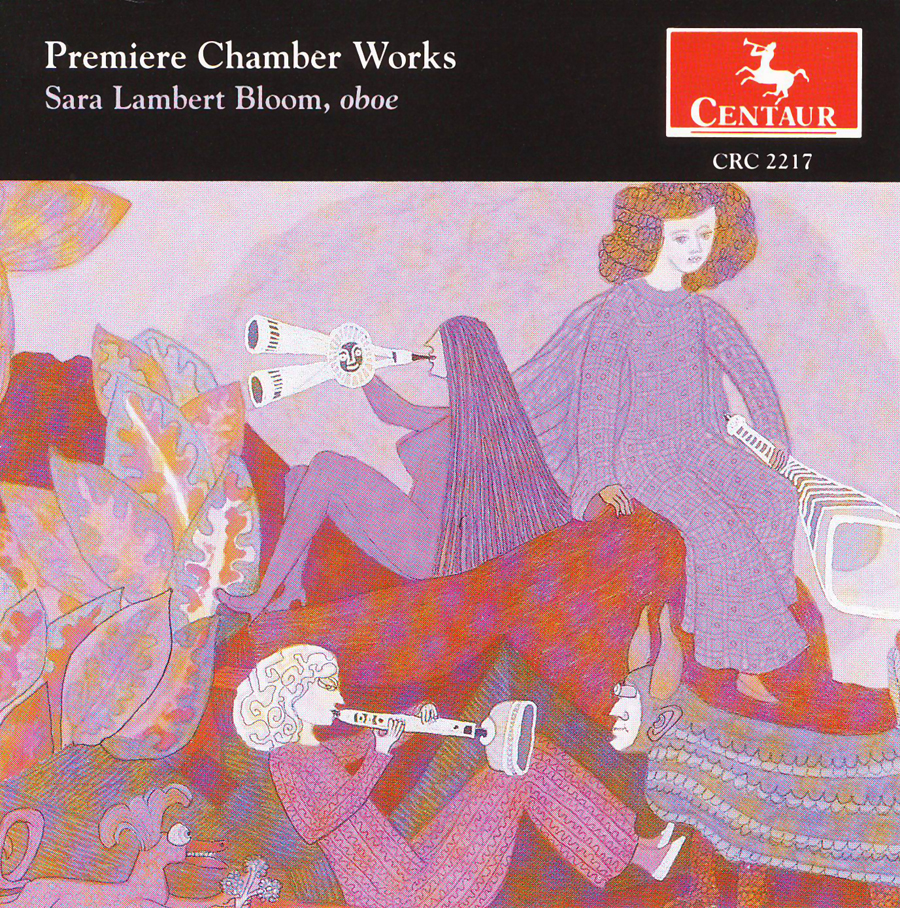 Premiere Chamber Works: Sara Lambert Bloom, oboe
CD on Centaur label, 2217
Sara Lambert Bloom, oboe and English horn
Richard Woodhams, oboe
Sheryl Woods, soprano
Julius Baker, flute
Charles Neidich, clarinet
Lynette Diers Cohen, bassoon
Henry Peyrebrune, double bass
David Mulbury, organ
the Amernet String Quartet (Kyoko Kashiwagi and Marcia Littley de Arias, violins; Malcolm Johnston, viola; and Javier Arias-Flores, cello)
Produced by Sara Lambert Bloom
Cover Art: Hills of Music commissioned from Evelyn Marx
Commissioned works by Joel Hoffman, Darrell Handel, Allan Sapp, Bernhard Heiden, John Harbison, Fredrick Kaufman, Robert Bloom, and Jan Koetsier
Reviews

"Despite the proliferation of names in the headnote, this disc is a one-woman show: Sara Lambert Bloom, Professor of Oboe at the Cincinnati College Conservatory of Music, commissioned and premiered most of these works, plays in them all, produced the disc, and wrote the perceptive program notes. A student of Robert Bloom, solo oboe and English horn for Toscanini and Stokowski, she later became his wife; his Madrigal for Sally, of which one movement appears here, was written as "a courtship piece" for her. Family history continues with "A Bud for Bloom," written for a celebration of his eightieth birthday.
"The many pieces on this disc have such a wide range of styles and feelings that no brief review can do justice to them. That range also makes listening to the whole disc at one sitting impractical: they must be played individually to be appreciated, preferably with Bloom's written annotations at hand. Each piece is a highlight, with a special character of its own.
"It takes an extraordinary musician to cover such a range, as well as a technically superb instrumentalist. The artists with whom she plays include some of the masters of their instruments, affirming the high opinions her colleagues hold of her. The recordings, made from 1986 to 1993 in many locales, have a consistency of quality that never intrudes upon the music."
James H. North, CD NOW Nov, 1995
*a superlative program of new music for an ancient double reed, beautifully performed by Sara Lambert Bloom and friends.
*a very welcome group of eight first recordings and it's all just music (thank goodness) with lots of lively ideas and inventive instrumental combinations superbly performed.
*The opening of Harbison's Concerto for oboe, clarinet and strings-a substantial work by one of America's best living composers-is unforgettable. Even better is the long-lined, melismatic lyricism of the central Larghetto which lingers in the memory as the highest high point.
The American Record Guide, Sept/Oct 1995
*I'm full of admiration for your artistry, both technical achievement and the expressive qualities, with an enormous variety of tonal colourings. And it really is a splendid programme, full of good things.
John McCabe
London, 1995