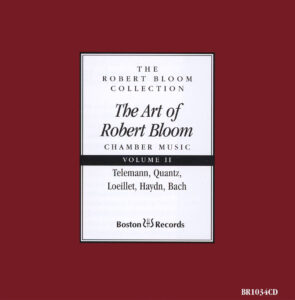 obert Bloom, one of America's most distinguished oboists in the twentieth century, spent the first thirty years of his
career performing and recording as the solo English hornist with the Philadelphia Orchestra under the direction of Leopold Stokowski in the 1930s and then in New York City as solo oboist with the great broadcast and recording orchestras of the day:  the NBC Symphony with Arturo Toscanini, and the RCA Victor and CBS Orchestras with Stokowski, Shaw, Walter, Klemperer, Reiner, Bernstein, and Stravinsky, among others.  In 1946 he also began his thirty-four years performing and recording extensively with the Bach Aria Group under the direction of William H. Scheide.
These CDs, however, are devoted to Bloom's live and unedited performances of chamber music and solo oboe repertoire, never before available to the public, made possible with state of the art remastering.
(BR 1031)
MUSIC FOR OBOE AND STRINGS  Volume I
Music of J. S. Bach, C. P. E. Bach, Bloom, and Handel with conductors Paul Wolfe, Sarasota Festival Orchestra, and Gustav Meier, Yale School of Music Orchestra
(BR 1032)
MUSIC FOR OBOE AND STRINGS  Volume II
Music of Albinoni, Barlow, Bloom, Cimarosa, Handel, Marcello, Vivaldi, Vaughn Williams, and Stravinsky with conductors Keith Wilson, Yale's Norfolk Festival Orchestra, Paul Wolfe, Sarasota Festival Orchestra, and Leopold Stokowski, RCA Victor Orchestra
(BR 1033)
CHAMBER MUSIC  Volume I:  Music for Oboe and Piano
Music of Bloom, Handel, Mozart, Nowak, Schumann with pianists Ward Davenny, Hortense Monath, Paul Ulanowsky, and Earl Wild
(BR 1034)
CHAMBER MUSIC  Volume II:  Trios and Quartets
Music of Bach, Haydn, Loeillet, Quantz, and Telemann with Julius Baker, Lois Marshall, Robert Nagel, David Schwartz, Joseph Silverstein, and others
(BR 1035)
CHAMBER MUSIC  Volume III:  Mixed Ensembles
Music of Donovan, Loeffler, Reinecke, and Telemann with John Barrows, Broadus Erle, Seymour Fink, Leonid Hambro, Aldo Parisot, David Schwartz, and others
(BR 1036 and 1037)
SELECTIONS FROM THE BACH ARIA GROUP
with oboe obbilgato Volumes I and II
with singers:  Marion Anderson, Erna Berger, Norman Farrow, Maureen Forrester, Mack Harrell, Lois Marshall, Seth McCoy, Jan Peerce, Carol Smith, Jennie Tourel, Benita Valente, William Warfield, and Susan Davenny Wyner and continuo players Timothy Eddy, Bernard Greenhouse, Menachem Pressler, Paul Ulanowsky, and Yehudi Wyner, and William H. Scheide, Artistic Director
The Art of Robert Bloom was made possible through the generosity of F. Loree, Paris, Robert D. Gilbert and Yung Kai Chang of Los Angeles, music lovers from Sarasota, Florida, and Cranberry Isles, Maine, and Yale University associates Dr. and Mrs. Joseph Rossi and Abby N. Wells.
---
Comments
Bloom's sound is, in a word, exquisite.  Soft, rapturous, rounded, exceptionally pliant tone pours from this man's instrument.  The sensitivity and phrasing are remarkable, a concrete example of a fine musician's ability to move us in an unspeakable manner.  Everything here is a highlight…Even with the student orchestras, the radian warmth of the performances comes shining through.  Goodness!  I think I have written a rave!   –Ritter, American Record Guide April 2000
My litmus test was, "Would he play these tapes for guests in our living room or at a master class gathering?"  –James Reel quoting Sally Bloom, Fanfare
Your CDs should come with a box of Kleenex.  –Patricia and Rodney Garside, Pasadena, CA
Robert Bloom–grande, grand artiste!!!   –Pablo Casals' inscription to Robert on his photo
Dear Mr. Bloom, You played so wonderfully in the Bach, I feel I must write to tell you what deep musical satisfaction I had from listening to your solos, and to making music with you.  Always your friend, Leopold Stokowski
To hear the almost unbelievably imaginative penetration of such a virtuoso as Mr. Bloom, who gave us things we had never before heard from an oboe, is one of the great aesthetic privileges of our time.  —Deseret News, Salt Lake City
One of our greatest singers…who happened to play the oboe.   –Wayne Rapier, Artistic Director, Boston Records
---
Reviews
Calling Bloom's playing cynosure, or brilliant enough to navigate by, Jacobson writes:
Legends from the Golden Past turn out sadly often, on close present-day examination, to be legendary and no more, and invested with the gilt of spurious greatness only by the glow of nostalgia. Let me not needlessly raise hackles by offering a few examples that, in my estimation, belong in this category-regular readers can probably supply some names without my repeating them. Suffice it to say that Robert Bloom (1908-94), oboist, composer, conductor, teacher, and editor, emerges from these two volumes of an ambitious retrospective set of recordings as a blessed exception. . . .

Released under the care of Bloom's widow, Sara Lambert Bloom, and projected to form part of a seven-CD series, these initial discs show us a player of phenomenal gifts, not merely technical, though in that sphere he can have had few rivals, but in the fields of musicianship, of expressivity, and also–a salutary revelation in these days when we think we are the first generation to have discovered the truth about Baroque style–of taste in the interpretation and embellishment of 18th-century texts.

The pleasure afforded by this landmark collection is enhanced by Sara Bloom's copious booklet essays.  They add up to a fascinatingly colorful portrait of American musical life in the second half of the 20th century, as well as an homage to one of its most admirable and likable champions.

Bernard Jacobson, Fanfare, May 2000 and Nov/Dec 2000
---
There is no more heavenly sound than that of an oboe played sweetly and with passion.  If Marcel Tabuteau was the father of modern American oboe playing, then Robert Bloom was most certainly the dean.  [Gives biographical highlights.]

Even in his heyday, Bloom was critical of the narrow tone many of his contemporaries were producing, favoring instead a rich, harmonic-laden sound that took its model from the human voice.  In fact, he often said that he loved the voice above all else, and his constant struggle was to make his instrument an extension of the voice.  Baroque "style"–in the sense of musicological histrionics–meant little to him.  He was a romantic pure and simple, if not in temperament, most assuredly in his thoughtful, integrated approach to the instrument.  Not for a moment did he believe that Bach or Handel should be played in a wind-it-up-and-let-it-go manner.  The music taught him otherwise, and he remained faithful to that principle his entire life.

Bloom turned down many opportunities for recording, and his last years especially were absent any major-label activity.  His preference was for teaching and discovery, particularly through the concert experience.  As a result, discovering his ideas is a little like eavesdropping–hang a mike here, turn on a tape recorder there, and hope for the best.  Evidently there was quite a lot of this ad hoc sort of recording going on, and now Boston Records has resolved to unearth some of these treasures.

Bloom's sound is, in a word, exquisite.  Very few oboists are playing like this anymore, and what a loss it is!  Soft, rapturous, rounded, exceptionally pliant tone pours from this man's instrument.  The sensitivity and phrasing are remarkable, a concrete example of a fine musician's ability to move us in an unspeakable manner.  Everything here is a highlight–but pay attention to the Handel [Concerto in G Minor], a work he loved and worked with all his life.  And don't ignore his Requiem, perhaps the most frequently played work he penned, silvery and full of pathos.  Even with the student orchestras, the radiant warmth of the performances comes shining through.

Boston Records calls this volume one–good news for all concerned, as six more, including chamber music, are planned.  I can hardly wait.  Goodness!  I think I have written a rave!  No matter, this is worth it.

Steve Ritter, American Record Guide, May 2000